Church-Based Extension Campuses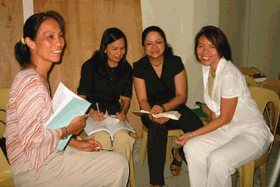 It is easy to have your own bible school as an extension campus of GlobalChristians.Org. The extension campus consists of a small group of students who meet regularly under the supervision of a pastor or other well-qualified Christian leader.
All marking is done by the pastor/leader of the extension campus and the results are sent in to GlobalChristians.Org who then issues the certificates. These certificates can also include the name of your church, bible college, prison ministry, or small group.
We do not yet have government accreditation but we are working towards it. Please consider this primarily as training in the knowledge of God and toward effectiveness in ministry, rather than as an academic or career pathway. Also please note that we cannot help you with personal finances, equipment, books or with visa applications to the USA.
You may charge your students a small and reasonable fee to cover the costs of running your extension campus.
You may study any of the five different bible-based Certificate coursesor the Harvestime church-planting and evangelism course which is available in English, Spanish, Portuguese, Thai, Russian and Tagalog.
Apply to GlobalChristians.Org, sending us your statement of faith, your vision for ministry and organizational details. You can send these as email attachments - see "contact" button at right.
Please include the one-time, non-refundable $75 USD application fee. This is per church/organization (not per student)
If you want an GlobalChristians.Org CD with all the study materials that is an extra $49.95. The CD will be posted once your payment is received here in GlobalChristians.Org office.
Thus the total cost (application fee plus GlobalChristians.Org CD) of setting up your extension campus is only $124.95. For this modest amount you will get all the study modules, ebooks and forms and documents you require to run your own bible college.
You then take your small group through the study material, the students should read the ebook or module prior to class and then the pastor or group leaders should teach it, revise it and administer any exams required.
The exams and assessment requirements are included on the CD
Official GlobalChristians.Org-International certificates of completion can be sent to those who complete their exams /assignments. These certificates are in PDF format and cost $5 per student per subject (to cover the labor involved); you then print out the certificates and give them to students. The certificate can also include the name of your church, ministry, or organization.
There is an annual renewal fee of $28 payable by 1st January each year, (excepting campuses set up in December of the immediately previous year). This is per organization, not per student, and allows the church/organization to continue its affiliation with GlobalChristians.Org.
Payments can be made by check or Paypal here
GlobalChristians.Org Handbook has instructions on how to run your extension campus and the online help section will answer most of your basic questions.
We recommend the use of the free E-Sword bible study software.